How and when did you first hear about PT Pub Night and what was your immediate reaction? "We are a partner of Physical Therapy.com and noticed that they had become a national partner. When I went onto the PT Pub Night website and noticed the glory that was Physical Therapy and Brews, I was immediately interested because we have hosted "happy hour" events in multiple cities for therapists. PT Pub Night really formalized this idea mixed with social media and that grabbed my attention because we are a new brand to the Therapy Staffing industry and want to meet therapists in every market. This 100% seemed like a great partnership waiting to happen. PT Pub Night and Cell Staff share similar qualities in our marketing approach and I know that we will be able to compliment the cause and continue to draw awareness to the profession."Describe what attracts you to PT Pub Night. Is it the mission? The way it's inclusive to all levels of PTs and PT professionals/students? The people? The beer?

"As a company that specialized in Physical Therapy Staffing we found that our best relationships are those that are established in person and brewed over time. Our goal is to create a unique experience for every therapist that we have the opportunity to partner with. PT Pub Night is a perfect example of creating not only a unique experience but it gives our company a new way to connect with current therapists and future therapist in our community.

We've been very fortunate to surround ourselves with amazing partners and vendors who have helped shape our company. Selecting PT Pub Night was a no-brainier for us because we share the same fun-loving, problem solving attributes along with thirst for a tasty brew from time to time. Cell Staff prides itself in being staffing visionaries. We seek the most gifted therapist in the healthcare field and what better way for us to grow not only our brand but also promote the Physical Therapy professional community."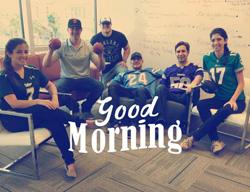 Tell us a little about Cell Staff, the services you offer, and why you're amazing at what you do.
"Cell Staff is a team of creative recruiters, account managers, and strategist with vast experience in the therapy staffing industry located in Tampa, FL with a nationwide thumbprint to accommodate your employment needs. We often get asked "why Cell Staff". Well it's simple, a Cell is often called "the building blocks of life." That combined with staffing is how we created the name Cell Staff.  A new staffing company that is here to offer you a FRESH START. We don't follow a process. We view every new relationship as an opportunity to develop custom solutions and strategies that produce real results. We're not interested in being one of your staffing agencies; we're interested in being your partner.
Sure, we offer the traditional healthcare staffing services you've come to expect but then we crank the volume up to eleven. Cell Staff provides nationwide employment opportunities for all Therapist including Therapy Assistants within Physical, Occupational, and Speech Pathology. Our clients range from long term care facilities, outpatient orthopedics, hospital to behavioral health clinics, home health, and school districts. We're ready to show you how good "good" can be."
Have you ever attended a PT Pub Night event? Do you and the staff have a favorite beer, cocktail, or pub-type drink? (non-alcoholic drinks count!)
"We have never attended a PT Pub Night but we have hosted similar events for our staff who are working in their markets. All we have asked is that they bring a Therapist so we can continue to meet new faces. My partners and I are all from San Diego and we love craft beer. We were very involved in the craft beer scene in SD and have continued to become involved with the craft beer scene here in Tampa (one which is growing and ranked the #1 new upcoming craft beer city). We are big IPA and Porter fans and have some great spots with some great brews here in Tampa who are eager to host an event."
Check out Cell Staff's "fresh" new website and follow their crazy antics on Instagram.