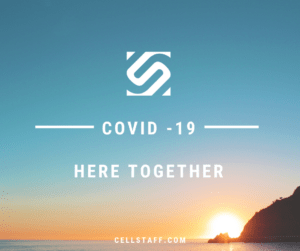 Cell Staff is taking several steps to ensure we can support our clinicians and staff through the (COVID-19) pandemic.   As always, the health and safety of our clinicians and internal staff remain our top priority.  Our business continuity program prepares us to respond to disruptive events through robust planning, regular testing, and constant monitoring – ensuring we can continue to support you as the situation progresses.
Our commitment to you
During this time of uncertainty, you can count on our unwavering support.  We're committed to meet your needs and deliver quality, dependable service.  This includes all administrative and clinical support for our clinicians and clients. We are currently providing Crisis Recruitment efforts for our clients across the country and answering questions / providing information as we navigate the impacts this has on everyone.  If you have a known exposure while on assignment with Cell Staff and are quarantined, please call (855) 855-4205 and email criticalresponse@cellstaff.com so we can further assist you.  This includes pay, and leave questions.
Today and every day your safety is our first priority. That's why we're in constant contact with our clients nationwide – making sure they're following the CDC's guidelines and taking sufficient measures to keep you safe. It's important to us that you stay healthy so you can keep others healthy.  We have partnered with Healthcare Source to help provide you with additional training: Infection Control & Emergency Preparedness Course
Cell Staff has joined forces with healthcare facilities and correctional institutions across the country to ensure all communities can fight COVID-19. Most of our staff and assignments do not currently involve COVID-19 patients. But as you know, the situation is evolving and we cannot predict the impact COVID-19 will have on the healthcare system.
COVID-19 is a very serious health concern.  We will continue to work with our clients and clinicians across the country and provide updates as we get them.  Currently, we are reviewing Families First Coronavirus Response Act because this will impact you.
External resources